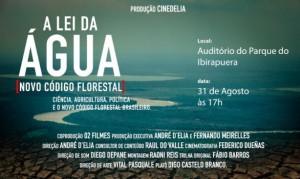 Water Act in the new code
On 31/8, Sunday at 17h, in the auditorium of Ibirapuera Park, happens to premiere the documentary The Water Act (New Forest Code), within the program of Sustainable Turnaround. Admission is free.
The film portrays the controversy about changes in legislation providing what should be kept and can be cleared on farms and cities. The impact on the forest's ability to protect water sources and thus prevent crises such as those affecting São Paulo today, for example, is one of the core production issues. The trailer can be seen  here .
The documentary was conducted over 16 months, based on research and 37 interviews in Rio, São Paulo, Pará, Mato Grosso, Parana and Brasilia. They were interviewed environmentalists, scientists, farmers and large farmers, some of which closely followed the controversial handling of the new law in Congress and think of their impact, bringing diverse and conflicting perspectives on the topic. Some of them must be in the premiere.
Still no plans for distribution, the work was directed by André D'Elia and has the Fernando Meirelles executive producing. D'Elia is also the author of "Belo Monte, the announcement of a war," already assisted 45,000 people in theaters and more than 3 million people on the Internet. D'Elia and Meirelles will also be the premiere.
The work is a partnership of the Socio-Environmental Institute (ISA), SOS Atlantic Forest Foundation, Democracy and Sustainability Institute (IDS) and Bem-Te-Vi Diversity. After the screening, there will be a chat between the public, the director and representatives of these organizations.
They are in the movie Senator and former Governor Maggi (PR-MT), the deputies Ivan Valente (PSOL-SP) and Ricardo Tripoli (PSDB-SP), the Deputy Attorney Sandra Republic Cureau, environmentalist Mario Mantovani, researchers institutions such as USP and the National Institute for Space Research (INPE), among others.
"The Brazilian Forest Code should be good for agriculture, should be good for the forest and must be fulfilled. It is expected that the public understands the law-related issues and can decide for themselves what is best for Brazil. And to win the best idea! "Says D'Elia.
The film warns of the consequences of the new Forest Code – approved for more than two years and that amnesty 29 million hectares deforested illegally throughout the country – and what can be done to prevent further damage to the environment.
The documentary goes public at the time that pass in the Supreme Court (STF) four Direct Unconstitutional Actions against Law 12 651, which repealed the old Forest Code 1965.